Did you know that Zagreb won the title for the best European Christmas market of 2018? Guess what, this is Zagreb's 3rd title in a row. If this is not enough reason for you to come next Decemer, in the next few lines I will convince you that the Christmas Market in Zagreb is worth a visit.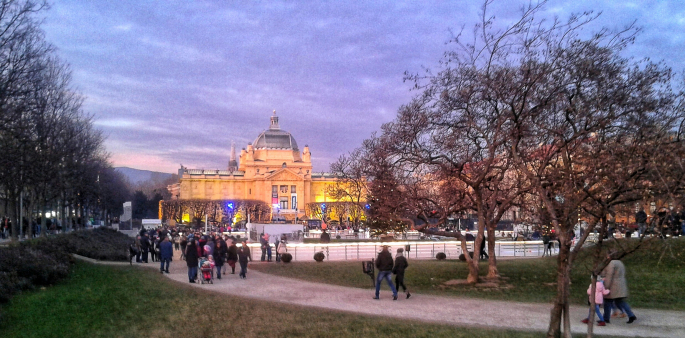 Ice park in Zagreb

I didn't have an opportunity to visit other markets during the Christmas season but I will be more than happy to give you tips on what to see and do while you spend your winter holidays in Zagreb.
The city of Zagreb has a plenty of things to offer to his visitors 365 days in a year. The summer season is the busiest but the winter period is not lagging behind.
So you probably wonder what is that that makes Zagreb at Christmas time more special than other places?
Friendly people, good food, the decoration of the city and above all it's unique Christmas spirit.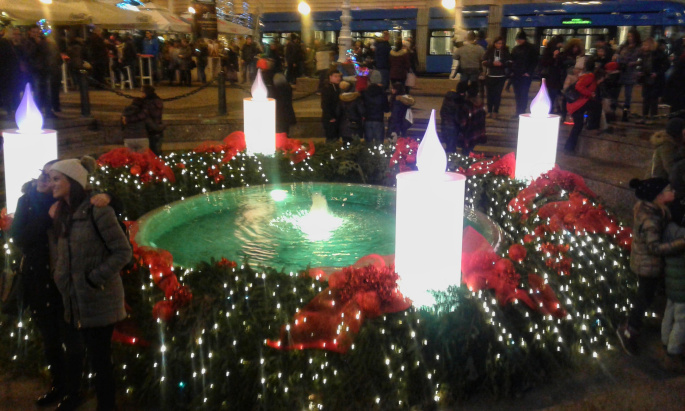 Advent wreath at the main square
Advent is open every year from the beginning of December until the second week of January. During that time Croatia's capital is a place of a different cultural and gastronomic events. You can choose to enjoy some local food in the restaurants or try some mulled wine with fritule if you are a dessert lover, either way, you can't go wrong.
Have plenty of fun, taste excellent food, attend unique events, enjoy art or simply indulge to Christmas spirit with ice skating, fooling around, dancing and relaxing with some good movies or learn more about local tradition and culture.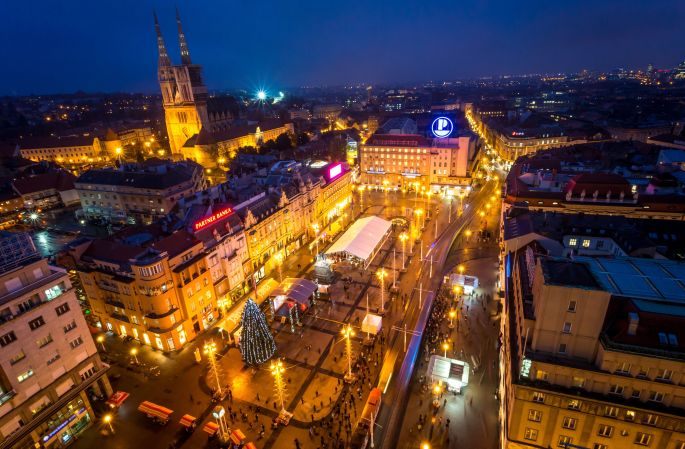 Ban Jospip Jelačić square from above
The Market takes place at several locations and the good thing is that they are all very close to each other. There are 17 locations. The main ones are: Advent at the park Zrinjevac, the European square, main square Ban Josip Jelačić, the Strossmayer promenade and the tunnel Grič.
If you want to rest your soul, then park Zrinjevac is a great way to do so. With an alley of 220 lighted trees, several fountains, sculptures of Croatia's historical figures and the old music pavilion that will make you waltz or simply enjoy some Christmas classics. Apart from all that you can buy some local handmade souvenirs and reveal traditional cuisine of Zagreb that offers strudels and you shouldn't miss a dish called krpice sa zeljem (pasta with cabbage).
The Grič tunnel is a tunnel found under the city that originates from the 2nd World war. It is decorated with special scenes not only during the Advent but also throughout the year. This year's Christmas market had a scenography that represented a street from the age of Charles Dickens. If you like good company and food than the upper town is a great place for you. Enjoy daily concerts and DJ entertainment, have fun with your children at weekend art workshops, share great food and drink with your lovely ones and take the most amazing photos of Zagreb. Feel the Christmas tale of Zagreb with a special entertainment program with numerous musical acts and animations for children during the day, as well as special parties for the evening program.

If you would like to find out more about the local history and tradition than you shouldn't miss on exhibitions, themed village, live nativity scene and plenty of other moments.
P.S. Make sure to book your stay early enough because accommodation facilities are all booked during the advent time and every year Zagreb has even better Christmas story to share with you. 2017 market is almost closed but you are more than welcome for the next 2018 market so don't hesitate to come.
Read more interesting post from me ( Emina Demirović) on my blog - THROUGH MY EYES.
Travel Like A Bummler !!