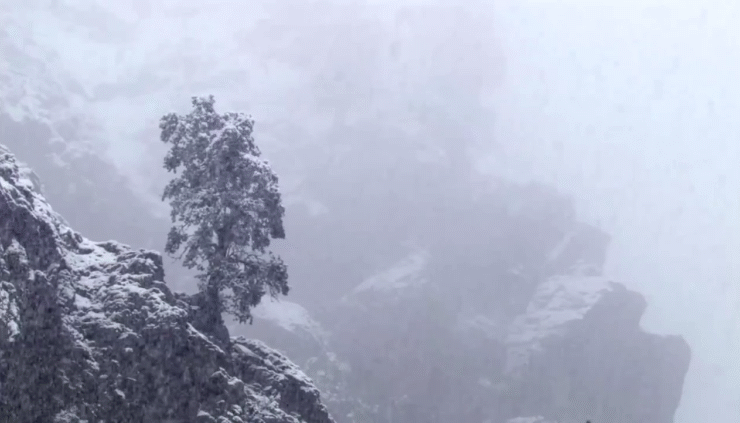 There are queries about snowfall in Kasol, weather of Kasol in December, places to visit in Kasol in December, whether Kheerganga trek in December is a great idea, and so forth.
First, let's talk about the weather of Kasol during winter. October to February are winter months in Kasol. So those who enjoy winter, chilly temperature, and are ready for an eventful trip should visit Kasol in winter. In winter, most of the roads to Kasol are inhospitable due to heavy and frequent snowfall, and if not this, then cold and dry winter winds make it a little difficult to explore the valley.
Winter is coming, and it is best experienced in Kasol!
1. Kheerganga trek: The trails are waiting for you
Kheerganga trek can be done during any months of the year, but if you're planning to trek during heavy snowfall months (sometimes it doesn't snow at all), then you have to be a little cautious as the trail becomes slippery. This trek takes you through many splendid Himalayan valleys and villages, which gives you an opportunity to capture some of the greatest nature shots of your life.
Tips: Do carry a sleeping bag, woolen gloves & socks, and wind-proof jacket.
2. Cafe hopping: Explore the happening ones
people standing outside a cafe
Image Source
One of the biggest reason why Kasol is loved by everyone is its cozy, unique, and happening cafes. These cafes are for those who would like to break free from their daily lives, sit amid the nature and just look at the falling snowflakes, sit around a bonfire and sing, or patiently observe the way of life in the mountains. You can go cafe hopping to explore as many as you want and find the one that makes you feel at home.
Popular cafes in Kasol: Jim Morrison Cafe, Bhoj Restaurant, Evergreen Restaurant, Stone Garden Cafe, Little Italy, Moon Dance Cafe, Mama Cafe etc.
Must Read: A First-Timer's Guide To Kasol: Things To Explore, Eat, And Experience
3. Photography: Capture some incredible shots in your camera
mist covered green mountains
If you're the photographer type and always long for the Himalayas, then you need to visit Kasol in winter. The distant mountains that will be covered in a thick white layer and the parched trees that will be wearing a veil of snow will create a perfect image for your photographs. Some of the best shots of Kasol are taken in winter. Even if it doesn't snow in Kasol this year, it is a delightful paradise for landscape and nature photographers.
4. Snowfall in Kasol: Let the soft snowflakes fall on your face
snowcovered mountain peak
If you've been planning to witness the gorgeous snowfall season in Kasol, then December to January is the time. Kasol attracts a lot of backpackers and explorers, who have come to experience the most incredible snowfall in Himachal. From going on a snow trek to making a cute snowman, there's so much you can do to make your snowfall season in Kasol a memorable time.
Suggested Read: Ten best places to visit in winter in Himalayan states
Some cool benefits of traveling to Kasol in winter
1. Walk like a boss, with no crowd around

two men walking in snow in mountains
Anyone who wants to live and experience the true essence of Kasol, without being bothered by noisy tourists must plan a Kasol trip in December or January. And, the way locals will treat you when there aren't many tourists is worth noticing. You'll get all the attention and the popular cafes in Kasol won"t be overcrowded.
2. Slashed prices and fancy stays
decorated and well lit tables in a hotel
Hotel and resort rooms can be as much as 50 percent off and the cost of transport also goes down. Since you'll get great deals offline, you won't have to book accommodations in advance. You'll get even the most luxurious resorts and hotels without much hassle.
Discover the picture-perfect villages around Kasol
1. Naggar Village

wooden houses in Naggar Village
At a distance of 58 km, Naggar is a big village, which has the beautiful Naggar Castle and Nicholas Roerich Art Gallery and Museum. You can take a taxi to this charming village settled amid statuesque mountains.

2. Malana Village
entrance of Malana village
Who hasn't heard of Malana! This little paradise is just 20 km away from Kasol and a must-visit for those who want to see the slow and calm village life of the Himalayan villages. This is an ancient village known all across India for its premium hashish and the natives who claim to be decedents of soldiers of the army of Greek emperor Alexander's.
Suggested Read: Getting High On Nature: My Solo Trip To Kasol & Kheerganga Was The Sweet Escape I Had Always Wanted
3. Tosh Village
houses and hotels in Tosh Village
A hidden gem in the quaint Parvati Valley, Tosh is just 20 kmm from Kasol. The village is situated near Bharsaini, which is the commencement point of Kheerganga trek. Tosh has some of the most stunning views that'll make your journey worth it.
4. Nakthan Village
a house in Nakthan village with snow covered mountains
A traditional village consisting of 40-50 houses, Nakthan is again about 20 km from Kasol. The houses in the village are made of wood and one can see intricate carvings on the doors and windows. Settled on the left side of gushing Parvati River, Nakthan is home to some absolutely gorgeous and colourful wild flowers, some of the species also bloom during winter.